Ever since beautiful visuals of Bali were splashed across our TV screens as Julia Roberts took us through her life-changing journey in the famous Hollywood movie 'Eat Pray Love', this destination has been hot with the entire world! If you are also dreaming of travelling from India to Bali, you can glean all the important information here.
Indians' Love for Bali
Bali is very special to Indians, routinely figuring on the list of places to visit for solo trips, bachelor parties, honeymoon and even family vacation. The attractive visa rules, availability of frequent flights and the lure of an exotic location make a lot of Indians gravitate towards the idea of holidaying in Bali.
Interestingly, about 83% of the population of Bali is Hindu. There are over 20,000 temples in this Indonesian province, making a majority of Indians feel at home when it comes to faith. Besides, there are abundant restaurants that serve Indian food or cater to vegetarian palates.
Apart from the flight cost, which can vary from airline to airline, city to city, and time to time, travelling within Bali is quite cheap. Pre-booked taxis, buses and open-air minibuses (called angkot or bemo) make it very easy to get around. Even most gorgeous resorts and fancy restaurants are generally budget friendly (though the exorbitant ones exist), hitting the sweet spot of the price-conscious common man in India.
Where is Bali?
Bali is a province in the South East Asian country of Indonesia. Indonesia itself is an archipelago of over 17,000 islands. Part of the Lesser Sunda Islands, Bali is located 8 degrees below the equator, falling in the southern hemisphere.
Within the archipelago of Indonesia's Lesser Sunda Islands, the province of Bali sits in the westernmost part. Incidentally, Bali is both a province and an island. The province consists of the eponymous island and some more islands that are smaller in size as compared to Bali.
Popular islands in Bali such as Bali, Nusa Ceningan, Nusa Penida and Nusa Lembongan lie to the west of Lombok and to east of Java. Bali follows the time zone of UTC+08 which is abbreviated as WITA (Central Indonesia Time). The country of Indonesia has a total of 3 time zones.
India to Bali Map
Both India and Bali are located on the Indian Ocean, even though Bali almost borders the Pacific Ocean. When travelling from India, one will have to journey towards the south east to arrive in Bali. This destination is spread over 5,780 square kilometres, making it clearly visible on the world map.
The province of Bali is divided into 9 administrative regions, consisting of 8 regencies and one city. The city is Denpasar – the capital of Bali. The 8 regencies include Tabanan, Badung, Klungkung, Bangli, Karangasem, Buleleng, Jembrana and Gianyar. Though smaller than India, Bali offers rich experiences in terms of culture, landscape and biodiversity.
India to Bali Distance
Bali is about 5,000 kilometres from mainland India. The exact distance varies with the start and end points you choose in both the countries. While that number may seem prohibitive, flights make it very easy to travel from India to Bali and vice versa, shortening the duration to some hours.
Which is Closer to India? Bali or Mauritius?
Indians love to compare their options, especially when they plan to splurge on their overseas vacation. If you are confused between Bali and Mauritius, it helps to understand which is closer to India.
However, the answer will only make it harder to take a call. Both the destinations are approximately equidistant to India, hovering around the 5,000 km mark. Some Indian cities may be closer to Mauritius than Bali, and some may be farther.
Mauritius holds an advantage over Bali in terms of flight time though. Direct flights operated by Air Mauritius and Air India can help you reach the African island nation in about 6 hours. For more details check out this detailed guide on reaching Mauritius from India. On the other hand, India has no direct flights to Bali, and the stopover increases the total journey time.
Nevertheless, when it comes to the cost, it is often cheaper to fly to Bali from India than to Mauritius. If you are a budget conscious traveller, Bali will delight you with all that it can offer at a reasonable rate – from delectable cuisine and affordable luxury accommodation to temple tours and watersports, and more.
How to Reach Bali from India?
One can journey from India to Bali in multiple ways, but not all are efficient. Each mode of transportation has its own charm, and may appeal to a certain type of traveller. Choose your transportation only after you understand all the others.
India to Bali by Flight
The quickest way to travel from India to Bali is by taking a flight. While all the existent flights from any Indian city to Bali have a layover, there used to be a direct route from Mumbai to Bali, operated by Indonesia's national carrier – Garuda Indonesia. It is possible that similar direct flights will be introduced in the future.
Bali Airport
There is only one airport in Bali, located 13 km south of the capital of the province – Denpasar. Often referred to as Bali Airport or Denpasar Airport, the official name of this airport is I Gusti Ngurah Rai International Airport, shortened to Ngurah Rai International Airport.
The airport is named after Colonel I Gusti Ngurah Rai, an Indonesian freedom fighter and a national war hero. In 2016, this international airport was recognized as the 3rd best airport in the world in terms of service. Bali Airport is the hub for Garuda Indonesia, the national airline.
It is not just the city of Bali that is beautiful. Even the airport flaunts traditional Balinese architecture alongside a modern design. The airport itself is quite small, but well equipped to handle air traffic from different parts of the world.
Flight Duration from India
Flights from India to Bali International Airport are long mainly because of the stopovers. At present (as of 2021), the shortest flight available from any city in India to Bali is 8 hours. However, the average flight time hovers around 18 hours, including the long layover. Some flights can take almost 29 hours to get you to this Indonesian city.
Flight Operators from India to Bali
Several airlines operate flights from India to Denpasar International Airport. All of the airlines have a stopover at the very least. Indian air carriers operating on this route are Air India – the national airline of India, and SpiceJet.
Other airlines that flyers can choose from are Garuda Indonesia, Malaysia Airlines, Thai Lion Air, SriLankan Airlines, Indonesia AirAsia, Batik Air, Singapore Airlines, Cathay Pacific, Silkair, Qatar Airways, Emirates, Biman flydubai and Malindo Air. Stopovers are generally in Singapore, Malaysia or Thailand, depending on the airline.
Departing Cities from India and Average Air Ticket Price
Many cities in India are connected to Bali by air. Popular departing cities are Mumbai, Delhi, Kolkata, Bangalore, Hyderabad, Chennai, Kochi and Ahmedabad. These cities have flights with only one stop in between. There are no direct flights as of now.
Many other Indian cities have flights to Bali operating on the same PNR, but with 2 or more layovers. If you are travelling from Goa, Surat, Pune or Nagpur, you should brace yourself for a long journey. For all other Indian cities with airports, one must take a flight on a separate PNR to any of the cities that have frequent flight connectivity to Bali and book the onward journey on a different PNR.
The cheapest India to Bali one-way flight can be snatched up for approximately INR 15,000 for an economy class seat on the Mumbai to Denpasar route. For return trips, about INR 28,000 is required per person. This works only when you book well in advance and pick your dates after checking the price calendar.
Flights are generally cheaper in the months of April and June when the tourist rush subsides, and the most expensive in December during the peak season. Flights can cross the INR 40,000 mark during the high season, and for circuitous routes.
India to Bali by Cruise
Going to Bali from India will be even more exciting if one takes the sea route. While there are no current cruise operators that ply on this route, plans are underway to introduce a luxury cruise from Mumbai to Bali. India's Minister of Road Transport & Highways is in negotiation with the government of Indonesia for the rollout of this plan.
The proposed route will commence from Mumbai, halting at the ports of Goa, Kochi and Andaman and Nicobar Islands, before docking at Bali. The launch date and price of the cruise tour is yet to be announced.
When the India to Bali cruise finally comes to fruition, one will no longer have to go through the hassle of waiting at the existing Mumbai Port terminal. Mumbai Port Trust has plans to develop a new terminal at the port that will specifically cater to cruise tourism. Proposed near Ballard Pier, the state-of-the-art terminal will be able to handle approximately 7,00,000 passengers on an annual basis.
Sea Route Distance and Time Taken
The expected sea route distance from Mumbai to Bali (via Goa, Kochi and Andaman and Nicobar Islands) will be over 6,500 km. Broken down, the distance from Goa to Bali will be almost 6,000 km, whereas Kochi to Bali will be more than 5,100 km. The final leg of the cruise, Andaman and Nicobar Islands to Bali, will be over 3,300 km.
The cruise duration is expected to be at least 7 days, if not more. The return journey will take equally long, making the Mumbai to Bali round trip via ship a holiday of 14 days at the very least. Arrivals will be at Tanjung Benoa cruise port in Bali, which is known to be a tricky one to manoeuvre.
Cruise Fare to Bali from India
Since the official rates for the Mumbai to Bali cruise have not been disclosed yet, one can only speculate. If we do a rough estimate of the fare, it could be anywhere between INR 1,00,000 per person to INR 3,00,000 per person, depending on the cabin class. The price will be inclusive of all meals. However, expect to pay extra for certain onboard facilities such as speciality dining, spa, and drinks. Taxes and port fees may also be added.
India to Bali by Road (Possibility)
Road trips are all the craze in today's day and age. While once upon a time, driving was restricted to weekend trips around one's own city or within India at the most, it has now become fashionable to take the road to foreign countries as well.
It is not possible to reach Bali fully by road from India as it is an island, separated by seas. However, road trippers can take the India-Myanmar-Thailand Highway all the way to Singapore, covering about 6,000 km. If driving without any halt, the route takes over 100 hours. If you will be resting in the night and making stops for bio breaks and meals, this leg will take about 6 days.
From Singapore to Indonesia, one will have to ditch the road for a ferry transfer to Jakarta – capital city of Indonesia. The final leg, from Jakarta to Bali is a 1,200 km stretch which can take a full day if driving without halts. Otherwise, this leg will take a couple of days, making the entire India to Bali road trip an 8-day affair.
One must keep in mind the requirement of travel insurance and visa formalities when crossing borders at multiple places. Also, the vehicle will need to have the requisite permissions. Besides, drivers will have to apply for an IDP (International Driving Permit) ahead of the trip and carry that along with their original Indian driving license.
Visiting Bali from various Indian Cities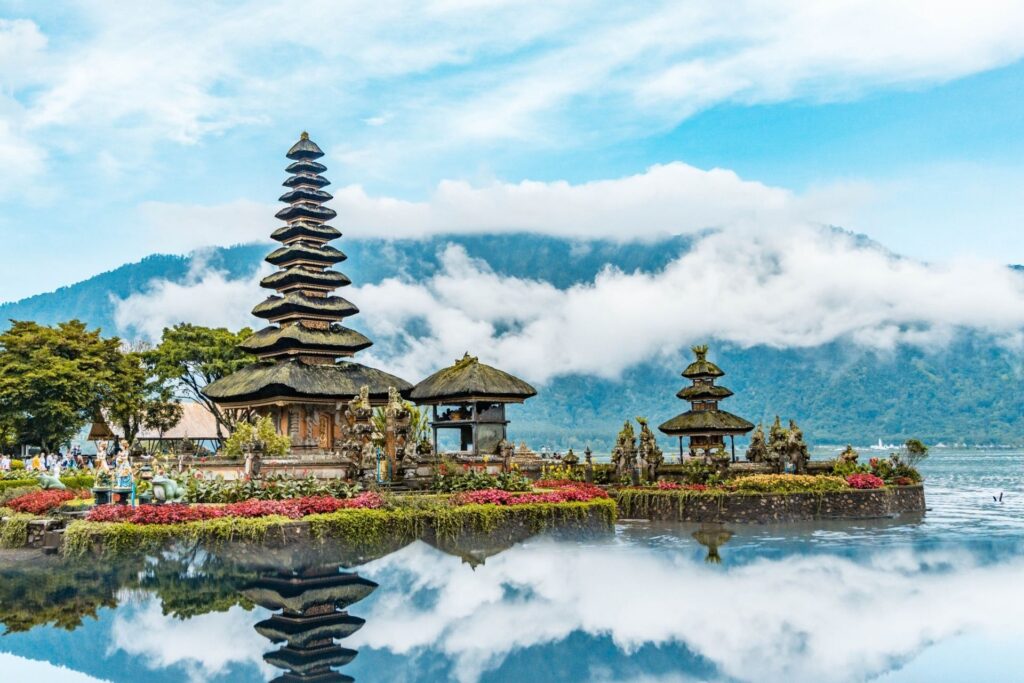 Whether you take your car or a flight, it is possible to get to Bali from almost every Indian city. While some have easier connectivity, smaller cities can easily find a route to Bali, even if it takes a bit longer.
Delhi to Bali
Bali is about 5,829 km from New Delhi – the capital of India. The most hassle-free way to travel from Delhi to Bali is to take a flight. There are no direct flights between Delhi and Denpasar, but you will find plenty of flight options with a one layover.
The cheapest one-way air ticket will cost almost INR 20,000 – operated by Malindo Air, with a halt in Kuala Lumpur – the capital of Malaysia. If you are looking for the fastest connection, Singapore Airlines offers the shortest journey of 9 hours and 20 minutes with a stopover in Singapore.
If you plan to take the road instead, enjoy the thrill of driving on the newly constructed India-Myanmar-Thailand Trilateral Highway (IMT). While some portions of this are still under development, the road connectivity is excellent.
Mumbai to Bali
Mumbai to Bali has the shortest flight time and more flights to choose from. The fastest that you can fly to Denpasar from Mumbai is 10 hours and 35 minutes when you take Malindo Air. Pick from a number of airlines that offer journeys with one layover or 2 layovers.
The cheapest one-way ticket from Mumbai to Denpasar will set you back by INR 22,000. While average rates hover around the INR 25,000 to INR 35,000 range, more expensive routes are available in case you have a favourite airline that you must fly with.
Airline which fly the Mumbai to Bali route (including code sharing arrangements) are Malindo Air, Singapore Airlines, Silkair, Malaysia Airlines, Cathay Pacific, SriLankan Airlines, Emirates, flydubai, Qatar Airways, Air India, Garuda Indonesia and KLM Royal Dutch Airlines.
Mumbai will soon have a cruise terminal and a cruise option to Bali that is under discussion at the moment. Seafarers will also get a glimpse of the ports of Goa, Kochi and Andaman and Nicobar Islands before they arrive at Tanjung Benoa cruise port – the main port on the island of Bali.
If you are planning to drive up to Bali, the shortest land route goes through the Indian states of Maharashtra, Madhya Pradesh, Uttar Pradesh, Bihar, West Bengal and the North Eastern belt of Assam, Nagaland and Manipur.
Thereafter, you will pass border control when you enter Myanmar. Your passport will be examined and stamped again in Thailand, then in Malaysia and Singapore. The road connectivity ends here, and one has to take a ferry from Singapore to Indonesia, Jakarta to be specific. The remaining road journey to Bali takes 23 hours more.
Bangalore to Bali
The aerial distance from Bangalore to Bali is 4,851 km. The shortest flight between the two destinations is operated by Singapore Airlines, with a layover at Singapore. With a total duration of 9 hours and 25 minutes, this is also the cheapest flight at INR 24,000 per ticket for a single journey.
The average economy class one-way airfare from Bengaluru to Bali is INR 30,000. However, some connections cost over INR 50,000. Airlines that ply on this route are Silkair, Singapore Airlines, Air India, SriLankan Airlines, Cathay Pacific, Malaysia Airlines, Emirates, Qatar Airways and Garuda Indonesia.
If one wants to drive all the way from Bangalore to Bali, the total distance will be over 9,500 km. The non-stop journey duration will be more than 200 hours, while a reasonable estimate, including time for rest, meals and night halts, will turn out to be at least 12 days.
The journey will take the driver through the Indian states of Karnataka, Andhra Pradesh, Telangana, Maharashtra, Madhya Pradesh, Uttar Pradesh, Bihar, West Bengal, Assam, Nagaland and Manipur.
The rest of the journey will involve border crossings at India – Myanmar border, Myanmar – Thailand border, Thailand – Malaysia border and Malaysia – Singapore border. Thereafter, a ferry will have to be taken to Jakarta where your passport will be stamped again. The last bit of the journey will involve a 23-hour drive to Bali.
Chennai to Bali
Chennai, the capital of the south Indian state of Tamil Nadu, is 4,554 km away from Bali. The cheapest way to travel from Chennai to Bali is to fly down to Denpasar. In fact, this is the Indian city that has the shortest flight from India to Bali. At 7 hours and 55 minutes, Singapore Airlines flies its passengers for just INR 22,000 per person for the economy seats.
Average flight prices from Chennai to Denpasar are around INR 25,000 to INR 30,000 for each way, whereas the average journey time is 15 to 20 hours for single layover flights. For 2 or more layovers, the journey time goes beyond 20 hours.
The driving time from Chennai to Bali is 203 hours. This excludes time for rest, pit stops and meals. However, the time is inclusive of the ferry which is to be taken from Singapore to Jakarta. The coastal road from Chennai that runs along the east cost of India, is a beautiful one – offering gorgeous views of the Bay of Bengal.
The route passes through the Indian states of Tamil Nadu, Andhra Pradesh, Odisha, West Bengal, Jharkhand, Bihar, Assam, Nagaland and Manipur. Later on, you cross the ASEAN countries Myanmar, Thailand, Malaysia and Singapore before ferrying off to Indonesia.
Kolkata to Bali
Kolkata, the capital of West Bengal, is 4,534 km away from Bali. The fastest Kolkata to Bali flight is under 9 hours, being the cheapest one also, at INR 21,000 per economy class seat. While this flight is operated by Singapore Airlines, you can choose other carriers like Silkair, Biman Bangladesh Airlines, Air India, Malaysia Airlines, Cathay Pacific, Emirates, Garuda Indonesia and Etihad.
The average flight duration from Kolkata to Denpasar is about 20 hours, including layovers, while the average cost of an economy seat on a one-way flight is INR 40,000. Layovers are usually in the cities of Singapore, Dhaka, Kuala Lumpur, Hong Kong, New Delhi, Mumbai, Jakarta, Dubai and Chennai.
If you're driving to Bali, it will take 170 hours from Kolkata without any stops. You will cross the Indian states of West Bengal, Assam, Nagaland and Manipur. The road trip will then turn international as you cross over to Myanmar before passing through Thailand, Malaysia and Singapore.
Cross the Java Sea and reach Jakarta via ferry. The final road journey will be 23 hours without stops as you arrive in Bali. Your passport will be stamped by 5 foreign countries as you go on this long road trip.
Hyderabad to Bali
Almost 5,000 km away from Bali, Hyderabad has few flights connecting the two destinations. It takes at least 9 hours and 20 minutes to fly to Denpasar from the capital of Telangana, with one halt minimum.
The cheapest airfare can be found for Malaysia Airlines – INR 26,500 for a one-way economy class ticket from Hyderabad to Bali. On an average, it takes 20 to 30 hours to fly between the two cities while the average economy class tickets cost between INR 50,000 and INR 70,000.
Airlines that fly from Hyderabad to Denpasar are Cathay Pacific, Malaysia Airlines, Air India, Singapore Airlines, flydubai, Qatar Airways, Emirates, Silkair and Garuda Indonesia. Layovers are generally in Kuala Lumpur, Hong Kong, New Delhi, Mumbai, Dubai, Singapore, Doha, Ho Chi Minh City, Chennai, Jakarta, Yogyakarta and Bhubaneswar.
Driving from Hyderabad to Bali will take 193 hours without breaks. You will be crossing almost 9,000 km, including a short ferry ride through the Java Sea. Within India, you will have to drive across the states of Telangana, Maharashtra, Madhya Pradesh, Uttar Pradesh, Bihar, West Bengal, Assam, Nagaland and Manipur. You will pass through international border control while entering, Myanmar, Thailand, Malaysia, Singapore and finally, Indonesia.
Ahmedabad to Bali
Ahmedabad and Bali are separated by 9,249 km. The cheapest flight from Ahmedabad to Denpasar will cost INR 24,000 while taking 9 hours and 40 minutes to reach. This is the shortest duration you can expect where the average duration is over 20 hours.
Airlines that fly from Ahmedabad to Bali are Silkair, Singapore Airlines, Air India, SriLankan Airlines, Cathay Pacific, Malaysia Airlines, EVA Air, Emirates, Qatar Airways and Garuda Indonesia. Since there are no direct flights, layovers can be in cities such as Singapore, Mumbai, Hong Kong, Dubai, Doha, New Delhi, Jakarta, Yogyakarta, Kuala Lumpur and Taipei.
Driving down instead? Budget for approximately 9,137 km of journey that will take more than 194 hours without any breaks. The Indian states that you will have to drive through are Gujarat, Rajasthan, Uttar Pradesh, Bihar, West Bengal, Assam, Nagaland and Manipur. Keep your passport, IDP and other documents ready for crossing international borders at Myanmar, Thailand, Malaysia, Singapore and Indonesia.
Goa to Bali
While both Goa and Bali are famous beach destinations, they are 2,851 nautical miles or 5,281 km apart. In addition to the fact that Goa has no direct flights to Denpasar, there also are no flights with a single layover.
One must endure two or more stopovers to reach Bali from Goa. Every flight that leaves from Goa to Bali first halts at Mumbai. Expect onward layovers in Singapore, Hong Kong, New Delhi, Bangkok, Colombo and Jakarta.
The cheapest one-way ticket from Goa to Denpasar costs INR 29,000 while the average price is INR 45,000. The shortest route will take just over 18 hours, while most other routes take over a day. Airlines that connect Goa and Denpasar are Air India, Singapore Airlines, Silkair, SriLankan Airlines, Cathay Pacific, KLM Royal Dutch Airlines and Garuda Indonesia.
If you are planning to drive from Goa to Bali, the total distance works out to be more than 9,500 km, taking more than 206 hours of non-stop travel. Indian states you will cross are Goa, Karnataka, Telangana, Maharashtra, Madhya Pradesh, Uttar Pradesh, Bihar, West Bengal, Assam, Nagaland and Manipur.
You will be able to drive across the IMT (India – Myanmar – Thailand) Trilateral Highway, only parts of which are complete. Thereafter, the drive will take you to Malaysia and Singapore, where you will have to ditch the car for a ferry to Jakarta. The final drive to Bali will take another 23 hours of non-stop driving.
Pune to Bali
Pune is 5,433 km away from Denpasar International Airport. The connectivity between Pune and Bali is not very good. One must take a flight with at least 2 layovers, the first being in New Delhi. The shortest flight will take 22 hours and 50 minutes while the average journey time is 40 hours.
Flights from Pune to Bali are also relatively expensive, with one-way fares starting from INR 33,000. Average flight cost for a single journey on economy class will easily cost over INR 40,000.
Airlines that connect Pune and Denpasar are Air India, Singapore Airlines, Silkair, Cathay Pacific, KLM Royal Dutch Airlines and Garuda Indonesia. Layovers are most likely to be in New Delhi, Singapore, Hong Kong and Bangkok.
Driving from Pune to Bali will take almost 200 hours of non-stop journeying. The total distance you must cover is about 9,150 km. Indian states you will drive past are Maharashtra, Madhya Pradesh, Uttar Pradesh, Bihar, West Bengal, Assam, Nagaland and Manipur.
For the international leg of the journey, you must possess all the visas, international driver's permit and your passport, apart from travel insurance and other documents required by each country on the route.
Cochin to Bali
Cochin is 4,886 km away from Bali and the shortest flight route takes 13 hours and 55 minutes. Due to the lack of good connectivity, the cheapest air ticket comes for almost INR 48,000. Average journey duration from Cochin to Bali is 24 hours whereas average airfare is INR 60,000. A road trip from Kochi to Bali will take 212 hours to cross the 10,100 odd kilometres between the two destinations.
Nagpur to Bali
Nagpur is about 5,000 km away from Bali but has no flight connections on the same PNR. You will have to book your flights separately to any Indian city that can fly you to Ngurah Rai International Airport. Cost and travel time will depend on the internal as well as international flight connections.
If you will drive from Nagpur to Bali, you will have to cross almost 8,500 km which will take at least 185 hours of non-stop travel. Keep your travel documents in order as they can be checked at multiple border-crossings along the route.
Surat to Bali
Surat is about 5,700 km away from Bali, but there are no flights connecting the two places. You must travel ahead to any Indian city with a flight connection to Denpasar International Airport and take a suitable flight.
Surat offers an interesting road trip to Bali as you cross 9,136 km of roadways that involve state highways, national highways, expressways and international roads. Non-stop driving and taking a ferry where the road ends (between Singapore and Jakarta) will take you almost 200 hours.
India & Bali's Currency
Rupee is the official currency of India, denoted by Re, Rs, ₹ or INR. Since Bali is a province in Indonesia, it uses the Indonesian rupiah which is represented as Rp or IDR. Banknotes are available in the denominations of 1,000, 2,000, 5,000, 10,000, 20,000, 50,000, 75,000 and 1,00,000 while coins in circulation are of the denominations 1, 2, 5, 10, 25, 50, 100, 200, 500 and 1,000.
Accepted Currencies in Bali
Indonesian rupiah is accepted everywhere in Bali, but it is not a reserve currency, and can be procured only once you enter Indonesia. You can carry your cash in US dollars or Australian dollars which offer the best value in exchange. In fact, most hotels in Bali publish their rates in USD.
Other reserve currencies like Pounds and Euros can also be changed into the local currencies, but at unfavourable rates. When travelling from India, it will be easier to change your INR into USD which can be carried to Bali and then exchanged into IDR.
Average Conversion Rate
For most transactions in Bali, it is recommended to carry cash as credit cards may not be accepted everywhere. Some relevant currency conversion rates are below (as of March 2021):
1 INR = 198.99 IDR
1 USD = 73.16 INR
1 USD = 14,558.75 IDR       
1 AUD = 55.68 INR
1 AUD = 11,081.04 IDR
1 GBP = 100.83 INR
1 GBP = 20,062.86 IDR
1 EUR = 85.84 INR
1 EUR = 17,098.07 IDR
Is USD accepted in Bali?
USD is readily accepted at most resorts in Bali. However, Indonesian rupiah can be used even at street-side shops and eateries. You will be able to find money changers easily and USD gets you a better rate for IDR.
Bali Visa details for Indians
Since Indonesia is a visa-free country, no Indian needs a visa if visiting Bali for tourism and for less than 30 days.
Is a Passport required for Indians?
Yes, a passport is required for Indians to enter Bali. The passport must be valid for 6 months after you return to India from Bali. Along with a passport, it is also necessary to have proof of a return flight to India, confirmed accommodation in Indonesia and at least USD 100 per person for each day of your stay in Bali (as proof that you will be able to sustain yourself legally).
Bali Visa Fee
While one needs no visa to enter Bali for under 30 days, a free-of-cost Visa Exemption Stamp will be stamped on your passport at the immigration hall. In case you wish to stay for more than 30 days and up to 60 days, you must buy the Indonesia visa on arrival to extend your stay.
Bali Visa on Arrival
At the immigrations area of Bali International Airport, you can pay USD 35 for visa on arrival (in case you are ineligible for visa-free entry) valid for 30 days. To extend your stay for up to 60 days, you will have to shell out USD 45 extra.
Communication in Bali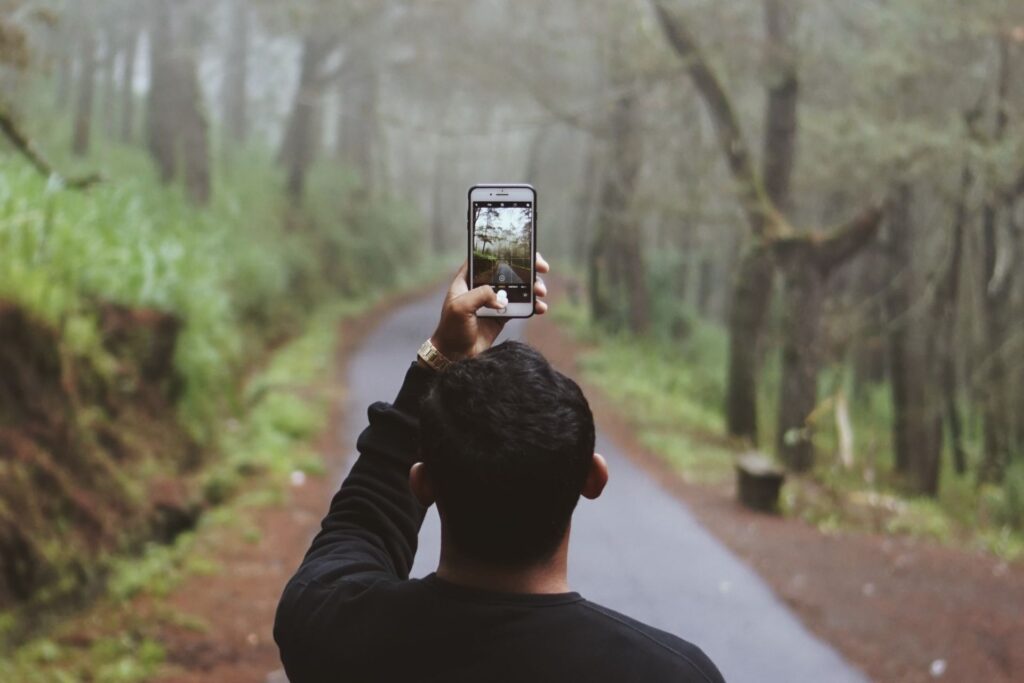 The native language of Bali is Balinese while the official language across the country is Indonesian. However, English is widely spoken and understood. As a tourist you will have no problem communicating with the locals to ask for directions, make purchases or just to chat.
When it comes to making calls and browsing the internet in Bali, you can buy a prepaid SIM in Indonesia. Popular local telecom providers are Telkomsel, IM3 Ooredoo, 3 (Tri) and Smartfren.
International SIM Cards from Indian Airports
If you do not wish to pay through the nose for international roaming on your existing number, you can get an international SIM card before you leave from India. Matrix has a kiosk at quite a few Indian airports from where you can buy the Indonesia Prepaid SIM for INR 999.
Postpaid SIM cards are also available with doorstep delivery and free services such as high speed data, calls to India, and incoming and local calls. You can also buy the prepaid Indonesia SIM Card offered by TSIM or look through their global cards for calling and data. They also have an unlimited 8-day data SIM for South East Asia.
Airtel Call Rates from Bali to India
If you are planning to take your Airtel India number on international roaming with you while in Bali, you can buy their IR packs which offer better rates. While Airtel's Travel Basics Global Pack for prepaid users has 100 minutes free calls to India, the Travel Unlimited Global Pack offers 500 minutes of free India calls.
India to Bali Phone Code
The phone code for Bali (Indonesia) is +62. This must be prefixed to any local number that you call from your India number. If calling a landline number in Bali, you will also have an area code before the 6 digit number.
Availability of Indian Cuisine in Bali
Bali has plenty of Indian restaurants that serve classics from Indian cuisine. However, you must remember that you will most likely be paying a premium since you are opting for a foreign cuisine. Balinese cuisine itself also has some influence from Indian culinary styles (apart from Indonesian and Chinese), so you must give it a try before sticking to Indian food.
If it is vegetarian food that you are after, you will find plenty of items in Balinese cuisine itself. Gorge on tempeh and tofu-infused dishes, coconut milk based curries, tropical vegetables, fresh fruits, rice preparations and aromatic dips made of galangal and other spices. You can also sip on juices and shakes.
Meat eaters may not find beef but Balinese cuisine is big on fish and meats. If you are keen on sampling the local cuisine, try sate lilit (minced meat on a lemongrass stick), lawar (mixed veggies and meats with aromatic spices) babi guling (roasted suckling pig) and bumbu betutu (spiced duck or chicken – steamed or roasted). For beverage, you should try kopi Bali (Balinese coffee), local tea served with condensed milk and palm sugar and get high on some brem (Balinese rice wine).
Respect to Bali's Culture & Sentiments
Bali's history & culture are steeped in Hinduism even though Indonesia mostly follows Islam, so Indians who are Hindus will find a lot of familiar traditions. Locals and foreigners are free to pursue their own religion. Bali has a distinct culture of its own, influenced by Buddhism, Confucianism, Taoism as well as Hindu rituals. Visitors must be aware of certain etiquette.
What to Do and What Not To
It helps if you know the best practices in Bali:
When visiting temples, shorts and skirts are not allowed. However, free sarongs will be provided to cover up. These are to be returned at the exit.
Since most Balinese people follow Hinduism, beef is rarely consumed or served. Do not insist on ordering beef if the hotel or restaurant management tells you they don't have it on their menu.
When shopping at street markets for souvenirs, clothes, paintings, etc., you can freely bargain for a better price. But remember to close the deal on a friendly note.
Dress Code
Tourists are largely free to wear what they wish. Trendy beachwear is welcome at the beaches and seafront cafés. However, when you visit a church, remember to cover up and dress soberly. The locals generally wear formals when they go to church.
What to Carry
Bali's weather is marked by bright sunshine and tropical vibes with some rain in the monsoon. Its proximity to the equator ensures that there are 2 main seasons here – dry (April to October) and wet (November to March). The temperature is always between 27 to 29 degrees Celsius, making Bali a warm place.
Take light clothes made of breathable fabric like linen or cotton. It is good to have a nice pair of shoes for Bali walking tours, volcano hikes and forest treks. For the beach, take plenty of sunscreen, a large hat, some flip flops and some colourful bathing suits.
Things to Note if Travelling with Kids
If holidaying with kids in tow, our Bali tour packages from India will ensure your little ones enjoy just as much as you do. Some tips to make the trip smoother:
Bali is an excellent destination to bring your toddlers. In fact, some Bali resorts have kids' spa, kids' yoga, and many other age-appropriate activities at the in-house kids' club.
Bring an insect repellent lotion (for plantation visits) along with a sun-block cream (for beach time).
Keep your children close when visiting the Monkey Forest in Ubud as sometimes, the monkeys might try to jump on them.
Activities & Things to Do
It is hard to choose from the plethora of activities to do in Bali. From yoga classes to horse-riding at the beach, there's something for every type of traveller:
Temple Hopping
The province that has thousands of temples is a fine place for architecture buffs. Soak in Balinese history at spots like Uluwatu Temple, Tanah Lot and Besakih Temple that go back by many centuries. Listen to mythological stories and be filled with amazement.
Water Sports
Bali diving tours may come with your package, but there's much more to do here! Try surfing, snorkelling, underwater tandem scooter rides, SUP (stand up paddleboarding), parasailing, water tubing, sea walking, jet skiing, flying fish, white-water rafting, banana boat rides, flyboarding, donut rides, and more.
Rice Terrace Tour
Guided tours through lush rice paddies are the stuff of dreams. Not only are the terrace farming practices and traditional subak irrigation system interesting to learn about, but also the scenic beauty that can be admired from the paddy fields are picturesque. Don't miss the famous Tegalalang Rice Terrace. Some tours also offer photo ops on giant swings in the jungle or zip lining across the fields.
What to do in Bali for Honeymoon
When looking for Bali honeymoon packages from India, make sure they include more than just the typically romantic stuff. Beachside dinner dates, sunset cruises and couple massages are great, but also consider helicopter tours over volcanoes, submarine rides in the ocean and bar hopping in Bali. Check out Things to do in Bali on your Honeymoon.
What to do in Bali with Family
Always pick Bali day tours that have a relaxed itinerary when travelling with family. The aged members in your groups will enjoy events that let them rest, such as cultural shows. The Devdan performance and kecak fire-dance are quite entertaining. For the younger members of the family, wildlife safaris, trips to the zoo, or cooking classes can be very engaging. Also check out Things to do in Bali with Family.
What to do in Bali on a Budget
Penny pinching can be very easy when you choose guest houses in Bali over expensive villas. Skip the taxi and rent a scooter to get around. There are plenty of free things to do in Bali such as relaxing at the beach, visiting some of the non-touristy temples (that charge an entrance fee) and strolling through the street markets. Ditch the pricey restaurants for the dirt-cheap warungs around every corner. For more information check out our guide on What to do in Bali on a Budget.
What to do in Bali for Non Swimmers
Non-swimmers or those with a fear of the water can take up horse-riding lessons at the beach or work on their tan. Trekking, exploring temples and strolling through rice fields are some of countless activities available to those who cannot swim. For more activities list check out What to do in Bali for Non Swimmers.
---
Your journey from India to Bali will change you as a person. As if the dreamy volcano mountains, picture-perfect beaches and lush forests weren't enough, Balinese hospitality, its rich culture and spice-filled cuisine will make you never want to leave!